Description
The Sciton Halo is the world's first Hybrid Fractional Laser that is uniquely designed to deliver both ablative and non-ablative wavelengths of light to the skin.
Halo uses fractionated laser technology to deliver laser energy in a series of dots or channels while leaving the surrounding skin intact. Fractionated laser treatments allow the epidermis (topmost layer of skin) to heal quickly as the deeper dermis remains intact.
With the Halo laser, there is no tradeoff between downtime and effectiveness. Halo sets the standard for laser resurfacing by delivering maximum results without the discomfort and downtime normally expected from fully ablative lasers.
Results Include:
✨ Decreased appearance of fine lines and wrinkles
✨ Decreased sun damage 
✨ Even skin tone
✨Tighter more elastic skin
✨ Decreased "orange peel" texture 
✨ New and healthy collagen resulting in plumper looking skin 
✨ Reduced appearance of pores 
✨ Reduction in hormonal pigmentation such as melasma 
✨ Increased luminosity and clarity
Suitable for
Skin types concerned with aging, pigmentation, texture, redness, wrinkles and sun damage.
Discomfort Level
Mild to moderate.
Topical anaesthetic provided.
Pricing
See FAQs below for additional information
Book Now
Before & After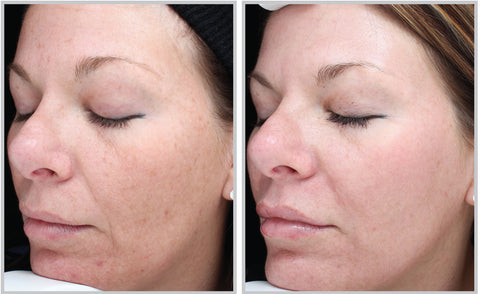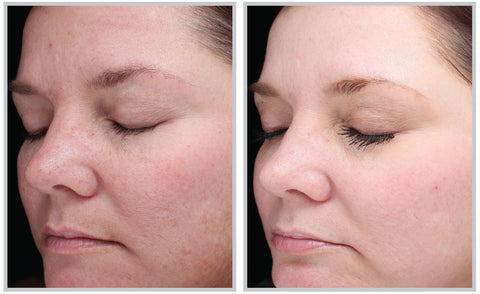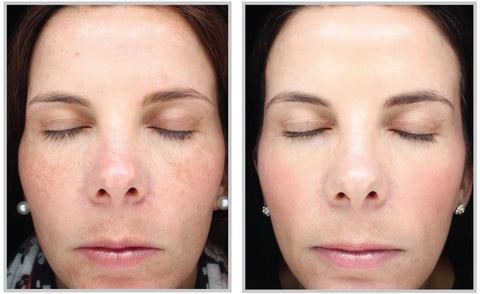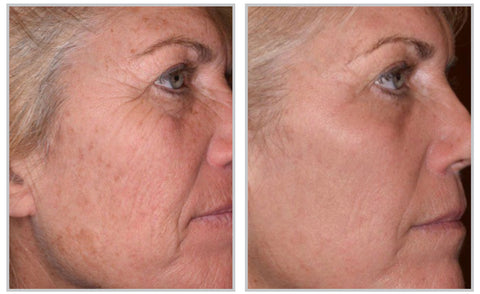 What is Halo?
The results of the Halo are unsurpassed when compared to other lasers. Skin is drastically rejuvenated as healthy levels of collagen and elastin are restored and a brighter, uniform complexion is achieved.
Ablative laser resurfacing is a well established treatment that vaporises aged skin. However, this comes with risks and downtime and the procedure can be very painful. Non-ablative laser treatments cause a deep heating and 'thermal injury' to the skin which stimulates collagen and skin healing. Non-ablative lasers have much less downtime but normally take more than one treatment to see noticeable results.
Halo is the best of both world's - delivering ablative Erbium (2940nm) wavelengths to remove the old and damaged superficial epidermal cells of the skin, combined with non-ablative (1470nm) wavelengths to penetrate heat deep into the skin.
The result is controlled damage to the skin that promotes the skin's natural wound healing response which switches on collagen and elastin production, new growth of healthy blood vessels to supply oxygen and nutrients to the skin and remove damaged skin cells.
Halo Options
Halo Pro
The Halo Pro is the full Halo treatment utilizing the Halo hybrid fractionated laser technology to combine ablative and non-ablative results. This treatment can be tailored to individual concerns and delivers dramatic improvements in skin texture and tone. 
Halo Pro Full Face $1500
Halo Pro Full Face + Neck + Chest $2300
FAQs for treatment
What Happens During a Halo Treatment?
Following your consultation you will have your photos taken and a topical anesthetic will be applied to the treatment area. This will be left to take effect for about 30-45 minutes. Once the skin is prepped we will begin the treatment. 
Halo uses advanced skin mapping technology to ensure that the entire face is treated evenly. A computer guided scanner tracks the path of the laser so that no areas are missed or overlapped. Your skin therapist will glide the Halo handpiece over the skin in uniform passes until the system recognizes that the entire face has been treated evenly and the treatment is complete. The length of the treatment for the full face is approximately 30-45 minutes. 
The topical anesthetic and the integrated cooling technology of the Halo helps to minimize the discomfort of the treatment. Most patients report a feeling of heat and a prickling sensation. Patients will continue to feel heat in the skin for 3-24 hours after the treatment and will be given a cool air device immediately after treatment to help with the heat.
What to Expect in the Days After Treatment
Immediately after treatment your skin therapist will review your aftercare instructions and you will be provided with products to use during this healing period. It is normal for your skin to feel hot for several hours after treatment. You can also expect some redness, swelling and a feeling of tightness which can last up to three days. 
The average down time for Halo Pro is 2-5 days. However, this varies from person to person and on the intensity of the treatment setting which will be determined during your consultation. Most patients experience dryness, peeling, redness and swelling and would prefer to keep a low profile during this time. However, if you'd like to return to daily life immediately after treatment, you can, as long as you take the proper precautions to minimize sun exposure. 
It's important to maintain moisture levels in the skin during this time for optimal healing. Avoid all active ingredients for a minimum of 7 days. This includes, P50, vitamin A (retinoids), vitamin C, ect. If going outside, be sure to wear a broad spectrum SPF of 30+ and try to stay out of direct sunlight. 
We are always available should you have any questions.
How many treatments will I need?
Halo technology combines ablative and non-ablative lasers. Ablative lasers are well known to have incredible results, but come with extensive downtime, whereas non-ablative lasers come with little downtime but require multiple treatments. With Halo, you can achieve ablative results with non-ablative downtime and less treatments. This means you will see significant results after one Halo treatment. 
One treatment will suffice for most, but the results and longevity of the treatment depend on a number of factors such as age and the condition of the skin prior to treatment. Relatively healthy skin with mild fine lines and mild to moderate sun damage will require only one treatment. For more mature skin with severe sun damage, deeper scars and wrinkles, 1-3 treatments are recommended. Treatments of hormonal pigmentation such as melasma will require multiple treatments at very low settings for optimal results. Your skin therapist will determine the best treatment plan after your consultation. 
In the 3-6 months following treatment, the skin will continue to show improvements as the Halo stimulates natural collagen production. The results of Halo can be extended with occasional ClearSilk, Forma and Microneedling treatments.
What is the difference between Halo and Fraxel?
The main difference between Halo and Fraxel is the type of wavelengths used. Fraxel uses longer, more ablative wavelengths which result in a more painful procedure with more downtime. Halo is the first hybrid fractional laser to combine long and short wavelengths in the same head. This makes Halo more efficient with less discomfort and downtime.
What is the difference between Halo and Clear & Brilliant?
The Halo has the ability to utilize only the non-ablative wavelength setting to stimulate collagen, plump the skin, refine skin texture, and deliver an immediate glow. The non-ablative Halo setting can be compared to the Clear & Brilliant but delivers far superior results with less down time.