Description
The ClearSilk laser facial is a zero downtime non-ablative laser treatment that reduces several signs of aging including redness and rosacea. 
Clients can continue their daily life immediately after treatment. In fact, ClearSilk is called the "Wedding Day Facial" and is the perfect pre-event pick me up. ClearSilk can be performed at all times of the year (even summer!) without risk or need for extensive post-treatment aftercare. 
ClearSilk is Effective at Treating
✨ Rosacea
✨ Diffuse redness 
✨ Reducing the appearance of pores 
✨ Uneven skin texture 
✨ Fine lines 
✨ Scarring
Suitable For
All skin types concerned with aging, redness, rosacea, wrinkles, sun damage and those seeking a gentle rejuvenation.
Longevity
Course of 4 to 6 treatments
Suggested Add Ons
✨ Dermaplane
✨ EGF Imprinting Mask
✨ Biologique Recherche Peel
✨ LED Light Treatment
✨ Masque PIGM 400
✨ Collagen Eye Treatment
✨ JLo Glow
Book Now
Before & After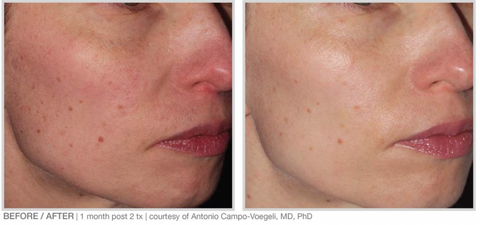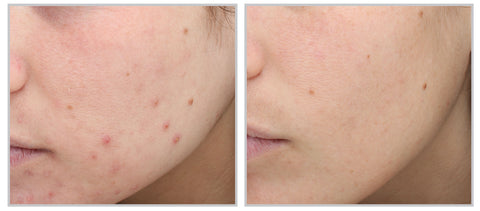 How Does ClearSilk Work?
ClearSilk works by depositing heat energy deep within the dermis to target multiple chromophores. Chromophores are of great interest in cosmetic laser procedures because they are the part of the molecule that gives it its colour. For example, melanin and hemoglobin both cause discoloration of the skin, melanin causes brown pigmentation and hemoglobin causes redness. Melanin and hemoglobin are both chromophores that can be specifically targeted and heated by the laser, while leaving the surrounding skin unaffected. Put simply, the laser will identify and break down pigmentation without damaging the surrounding tissues, leaving skin tone more even and radiant. 

Along with providing a youthful radiance, ClearSilk is especially beloved for its ability to treat diffuse redness in the skin such as rosacea, broken capillaries and dilated blood vessels. ClearSilk is the ultimate solution to treating redness in the skin. 
ClearSilk Laser Pricing Options
ClearSilk Laser
ClearSilk Full Face $300
ClearSilk Full Face + Neck $425
Package of 4 $1000
FAQ
What happens in a ClearSilk Treatment?
No topical anesthetic cream is required for this treatment as it is painless and very comfortable. 
During treatment the laser handpiece is moved over the skin to encourage bulk heating in the dermis, which promotes the body's natural response to clear pigment, reduce vascularity, and improve the overall appearance of tissue by stimulating collagen production.
You may feel some warmness, but many clients find this relaxing. A full face treatment lasts approximately 30 min.
How many treatments will I need?
You will notice an immediate plumping of the skin and increased glow with just one session.
On average, best results from Clear Silk are achieved with 4-6 treatments followed by regular maintenance throughout the year.
When will I see results?
You will see results immediately after treatment. ClearSilk can help restore the skin's youthful glow and appearance by smoothing out uneven textures caused by aging, sun damage or scars. You will see a more even, healthy complexion as the appearance of large pores is reduced, and minor imperfections are diminished. The individual treatment results are subtle, but the overall effect of multiple treatments can be quite dramatic.
Improvements will continue to show in the following months after treatment, as the Clear Silk also stimulates collagen production.
How often can I get a Clear Silk treatment?
Clear Silk treatments should be spaced 2 to 4 weeks apart.
What is aftercare like?
There is no downtime with the Clear Silk laser and clients can return to regular life immediately after treatment. You will be provided with simple aftercare instructions to keep the skin hydrated and protected from the sun. 
It is very important to protect you skin to extend the results of your treatment.
Highly recommended for?
Diffused redness, rosacea, uneven skin texture, dullness, fine lines, large pores, scarring.
What is the cost?
Please see ClearSilk Options above.